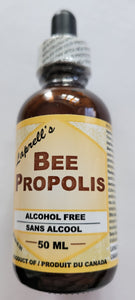 Glycerine Base - 50ml Bottle   

Water Soluble ~ Non Sticky ~ Pleasant Tasting
Propolis in GMO-free vegetable Glycerine (Kosher) 
Medicinal Ingredients (per 1 ml):
Propolis 167 mg
Non Medicinal Ingredients:
Pure Vegetable Glycerine (Kosher),
Does not contain:
Dairy, egg, artificial preservatives, colours, artificial sweeteners, yeast, wheat, corn, soya or gluten
Recommended Use:
Source of antioxidants for the maintenance of good health. (Traditionally) used in Herbal Medicine to help relieve sore throat and/or other mouth and throat infections.
Recommended Dose:
Adults: Take 0.5ml (approx. 12 drops) 3-6 times per day.
Duration of Use:
Consult a health care practitioner for use beyond 1 month.
Cautions and Warnings:
Consult a health care practitioner prior to use, if you are allergic to bee products, poplar tree products, or balsam of Peru; if you are pregnant or breastfeeding. Consult a health care practitioner if symptoms persist or worsen.
Known adverse Reactions:
Hypersensitivity, such as allergy, has been known to occur, in which case, discontinue use immediately.
Shake well before use. Keep out of reach of children. Store at room temperature. Do not use if seal on cap is broken. Lot and Expire date see bottom of bottle.